Traeger Buyer's Guide - Which Traeger Is Right For Me?
Posted by Home Billiards on 5th Apr 2023
If you've flipped a burger patty or two over the years, you've inevitably heard the Traeger name before.
Since the creation of the company in 1985, Traeger has grown to become a household name for all things grilling, constantly upgrading their technology and releasing new models to the public.
While this is great for us grillers, it does make deciphering between Traeger grill models more difficult. How do you know you're picking the right model for your needs?
Fortunately, that's where we come in. Using our guide below, we hope you can better understand the different Traeger grill models, which features best suit which needs, and everything else you need to know to make the right call.
What's in this guide
Why are Traeger grills so popular?
How to choose a Traeger grill

Cooking space
Temperature range
Digital controls
Fuel type
Build quality
Grill size
Appearance
Additional features

Traeger model comparison chart

Timberline
Ironwood
Pro Series
Ranger

When is the best time to buy a Traeger grill?
What to do before using a Traeger grill for the first time?

Purchase the right pellets
Purchase necessary BBQ grill accessories
Unboxing and assembly
Familiarize yourself with the digital controller and app
Ensure a nearby power source
Season your grill
Explore Traeger's resources
Proper pellet storage
Have a recipe in mind

How long do Traeger grills last?
Ready for your Traeger grill?
Why are Traeger grills so popular?
Traeger's long legacy as a leader in grilling isn't the only thing that has contributed to its current popularity. Other factors have helped propel it into the mainstream recently, including:
Rising popularity of wood pellet grills, Traeger's specialty. People turn to them first when they hear about wood pellet grill phenomenon
Mentions from popular media figures, including Joe Rogan
Versatility and ease of use (benefits of a smoker but with easy-to-use controls like an oven, can cook a variety of different foods, other benefits described in other articles, etc)
Environmentally friendly (uses pellets made from sawdust, which would have gone to waste otherwise, runs of electricity, etc.)
To learn more about the wood grilling phenomenon, check out our article breaking down exactly what wood pellet grills are and how they work.
How to choose a Traeger grill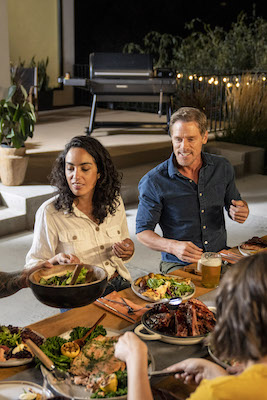 Choosing the right Traeger model comes down to choosing the one with the features that best serve your needs
Specifically, here are the features to consider when comparing different Traeger models:
Cooking space: The size of the cooking surface, which will determine the amount of food you can cook at once.
Temperature range: The minimum and maximum temperatures the grill can reach, which will determine the types of cooking you can do.
Digital controls: Some models feature more advanced digital controls with additional features such as WiFi connectivity, meat probes, and more.
Fuel type: The type of wood pellets the grill uses, which will impact the flavour of your food.
Build quality: The materials and construction of the grill, which will determine the durability and longevity of the product.
Grill size: The amount of space your grill takes up, which will determine where you can place it (keep in mind there are also portable Traeger grills)
Appearance: The physical appearance of your grill, which will determine compatibility with your existing BBQing/backyard setup.
Additional features: Some models include additional features such as shelves, wheels, and hooks for added convenience and functionality.
Traeger model comparison chart
There are basically four main series of Traeger grills to consider, including:
Ranger (part of Traeger's portable grill series)
Pro
Ironwood
Timberline
Below is a breakdown of who each series is best for, as well as an approximate starting price point for each series.
| | | | | |
| --- | --- | --- | --- | --- |
| Feature | Timberline | Ironwood | Pro Series | Ranger |
| Who's it for? | Essentially acting as a full outdoor kitchen, the Timberline Series is for serious grillers, offering top-of-the-line construction, temperature control, design and advanced features like TRU Convection and Super Smoke. | Offering more advanced features like WiFIRE technology and TurboTemp, the Ironwood Series is a great next step for those looking to explore advanced grilling and smoking techniques. | Venturing away from portable grills, Traeger's entry-level Pro Series provides a good balance between price and features. It's the perfect option for those just learning how to grill or smoke, on a budget, and/or simply wanting an easy-to-use, reliable, and versatile grill. | If you're looking for a portable wood-fire grill to use while tailgating, camping, or any outdoor adventure, the Ranger series is perfect for you. It's light, easily-packed, and still offers everything you need to grill, smoke, bake, and roast. |
| Price | $3,199.99 | $1,799.99 | $1,199.99 | $599.99 |
| Cooking Area | 1300 sq. in. | 885 sq. in. | 780 sq. in. | 184 sq. in. |
| Temperature Range | 165°F - 500°F | 165°F - 500°F | 180°F - 450°F | 165°F - 450°F |
| Hopper Capacity | 24 lbs | 20 lbs | 18 lbs | 8 lbs |
| WIFI-Enabled | Yes | Yes | Yes | No |
| Meat Probes | 3 | 2 | 2 | 1 |
| Construction | Double-Walled Stainless Steel | Stainless Steel | Steel | Steel |
When is the best time to buy a Traeger grill?
Like most grills, late summer into early fall is when you'll see the majority of deals on Traeger grills. That said, you can find good prices throughout the year (like our annual spring sale).
Price shouldn't be the only factor for when to buy a grill. Think about when you are likely to get the most use of your BBQ to avoid having to store it before using it or when stock levels might be higher so you can get the grill right away. If you're planning a patio remodel or backyard landscaping this can be a good time to upgrade your grill.
What to do before using a Traeger grill for the first time?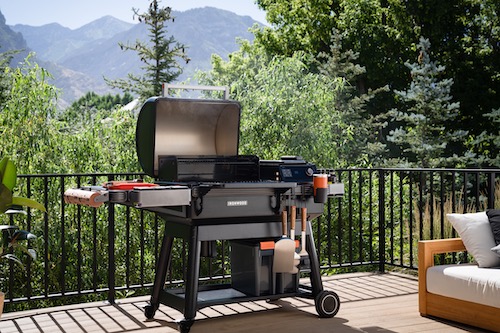 Before inviting everyone over for your first BBQ blowout with your new Traeger grill, here are some boxes worth checking first to help make sure everything goes smoothly:
Purchase pellets that complement the kinds of cooking you'll be doing (a Home BIlliards expert is happy to help you with this process.), and make sure you have enough pellets for the length and temperature you plan to cook at, which you can find a guideline for on our how pellet grills work page.
Purchase any necessary BBQ grill accessories.
Unbox, assemble (pulling information from Traeger's videos here: https://www.traeger.com/ca/en/learn/getting-started/unboxing-assembly), and read the instruction manual.
Familiarise yourself with the digital controller on your grill, as well as the app you'll be using to control your grill via wifi (only available on certain models)
Make sure you have a power source nearby, as Traeger grills run off electricity
Season your grill, which means doing a one-time initial firing process to ensure everything is working properly and that your grill is ready to impart as much flavour as possible (steps on how to do this: https://www.traeger.com/ca/en/learn/how-to-season-burn-in-grill). This is included as part of Home Billiards' professional grill installation, available to customers in the Vancouver area.
Take a look through Traeger's resources to help you get the most out of your grill: https://www.traeger.com/ca/en/learn/getting-started/get-the-most
Identify where you'll be storing your pellets, as storage can affect their quality (storage guidelines can be found on the back of the bag)
Have your recipe in mind (or mind), complete with cooking times, temperatures, seasonings, rubs, and any other ingredients. Not sure what to cook yet? Find out what you can do with a wood pellet grill (note: it includes baking pie).
With all of that out of the way, send that invitation out – it's time to get cooking!
How long do Traeger grills last?
At the very least, with proper care, you can expect your Traeger grill to last five years.
But by taking advantage of Traeger's various warranties, which range from three to 10 years for certain models, and replacing parts as needed, it's common for the lifespan of these grills to jump to the 10-to-15 year range.
Ready for your Traeger grill?
Whether you know exactly what you want or need some more help deciding, the team here at Home Billiards is here to help. Give us a shout with your questions, or head straight to the source and check out our Traeger wood pellet grills today!