What Is The Best Flooring For A Pool Table
Posted by Home Billiards on 18th Sep 2023
With nearly a million different flooring options, choosing a platform for your pool table can get overwhelming. However, picking the wrong flooring for a pool table can mean a damaged surface, extensive cleaning, or even wrecking your home. For example, a too-soft option might wear out quickly, while an overly hard surface could compromise the comfort and ambiance of your game room.
If you're on the verge of investing in a pool table, selecting an ideal floor to go under your pool table is essential before you make that purchase. Rest assured, you're on the right page.
This article will guide you to a perfect flooring choice that complements your table while balancing aesthetics, durability, and budgetary constraints.
Key takeaways: TL;DR
Some flooring types cannot sustain your pool table's weight without showing indentations or damage over time.
Flooring for pool tables, especially in basements, should handle moisture to ensure longevity.
Floor options, from hardwood to vinyl, have varied maintenance requirements.
What is the best flooring for billiards? Things to consider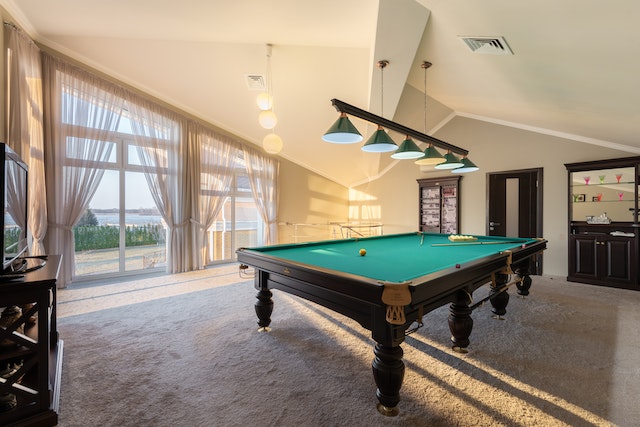 Like any industry, the billiards room floor market is inundated with options. This section teaches you how to evaluate those options using your needs as a compass.
1. Strength
Strength is one of the crucial factors to consider when selecting flooring for a pool table. And that's because pool tables, especially those made of quality materials, can be exceptionally heavy.
The pool table's weight and your constant movement during play necessitate a sturdy and resilient floor. A weak flooring will be damaged faster under all that pressure. Plus, it can affect the stability and performance of the pool table.
However, if you play less often and have a lighter pool table, strength can become a secondary factor in your decision.
2. Durability
Pool tables are long-term investments and thus require flooring that will stand the test of time. That said, consider personal factors that may affect your floor's durability.
For pool tables installed in the basement, prioritize flooring materials that can handle moisture. Basements can be humid, and some flooring types may warp or degrade under such conditions.
If your game room is a high-traffic area, you should pick a floor less prone to scratches.
Tiled flooring can be a good choice if you're frequently consuming drinks or snacks around your billiards table.
3. Easy to maintain
Pool games can lead to occasional spills, chalk dust, and other residues.
And the more you play, the more cleaning you will have to handle.
Therefore, the floor beneath should be easy to clean and maintain. Choose stain-resistant materials that can be effortlessly cleaned without compromising their look or structural integrity.
4. Appearance
Your pool table most likely isn't just a game accessory for when you play pool – it's a statement piece.
Thus, proper flooring should complement and elevate the table's aesthetics.
Whether you prefer the classic elegance of hardwood, the luxurious touch of carpet, or the modern look of polished concrete, the flooring should seamlessly integrate with the overall design of your game room.
And especially reflect your style.
5. Budget
While quality and aesthetics are paramount, budget constraints are objective facts. Fortunately, the flooring for is available at different price points.
Make a list of pros and cons, balancing the desired look and features with how much you're willing to spend. A higher initial investment can be justified if you consider the long-term benefits of durability and low maintenance.
What should I put under a pool table?
Now that you know which factors to consider, let's see the best flooring for your pool table.
1. Laminate
Laminate flooring is made from a multi-layered synthetic flooring product from pressed wood.
Laminate captures the allure of natural wood or stone, often exhibiting an uncanny likeness in appearance and texture.
Laminate flooring is best in billiard table rooms prone to scratches, stains, and moisture, as they are easy to clean. Conversely, this material might show indentations under the prolonged weight of heavy pool tables.
PROS:
Budget-friendly
Versatile design choices
Easy maintenance
Moisture resistance
CONS:
Heavy pool tables might cause indentations
2. Carpet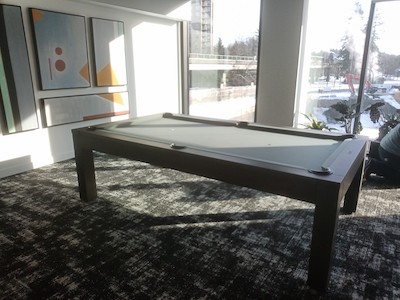 Carpets offer a soft and warm texture underfoot, making them comfortable if you stand or sit for extended periods in your games room. And depending on the model you choose, carpets can look extremely stylish. Carpet is also a great way to save your floors from pool balls that come off the playing surface when playing pool.
However, it's not the strongest option, as heavy pool tables may leave indentations over time.
Carpet is also susceptible to wear and tear, especially in high-traffic areas.
PROS:
Sound absorption
Soft underfoot surface
Insulation
CONS:
High-maintenance
It might wear out in areas with high foot traffic
Can affect pool table leveling
3. Hardwood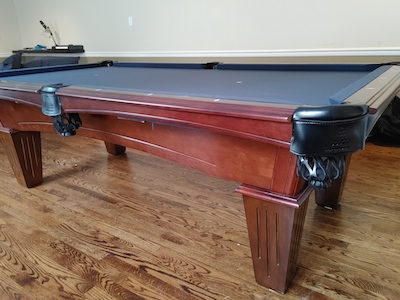 Derived from timber, hardwood floors are celebrated for their organic beauty and ageless appeal. Their grains, hues, and finishes bring a touch of nature indoors and can significantly elevate room aesthetics.
Hardwood is one of the strongest floors and can handle the weight of heavy pool tables, but it's susceptible to moisture damage and scratches.
And while it epitomizes luxury and sophistication, hardwood is generally on the pricier side.
PROS:
Aesthetically pleasing
Highly durable material
Sturdy
Allows refinishing
CONS:
More expensive than other options
Easily scratched
May require regular servicing
4. Rugs
Rugs, typically woven textiles, are often positioned over other floorings for design, comfort, or protection. They come in myriad designs, materials, and sizes, granting you flexibility in room aesthetics. Area rugs are also a great option to soundproof stray balls.
The largest disadvantage of using an area rug as flooring for pool or snooker tables is that they can slip or move unless you anchor them.
PROS:
Easy to change or replace for aesthetic variations
Guards the floor beneath against potential scratches
Adds a soft touch to harder floorings
Comfortable
CONS:
Maintaining precise leveling is difficult
Prone to collecting dust and requires cleaning
5. Tile

Tile flooring, made from ceramic, porcelain, or stone, is a durable and water-resistant option, but grouting might need extra maintenance, especially because it may discolour over time. Stone and porcelain tiles are particularly sturdy, while ceramic is the most affordable option.
If you select them properly, tiles can evoke an ambiance of grandeur. On the downside, these floor types can feel uncomfortable if you play for longer durations, so they might not be suitable for pool tables in colder rooms.
PROS:
Extremely hard-wearing
Ideal for basements or damp areas
Available in numerous designs, sizes, and textures
CONS:
Can be uncomfortable to stand on for long durations
Can feel cold underfoot, especially in colder climates
6. Rubber mats
Rubber mats' best features are their flexibility and insulation ability. That's why they're often used in gyms to protect floors from heavy equipment.
Rubber mats are a budget-friendly option if you have a heavier pool table, need easy-to-clean flooring, and have some budget constraints. Besides, rubber floors absorb dropped ball impacts.
PROS:
Optimal weight distribution
Can protect against heavy weights and impacts.
Easy maintenance
Soft surface
Typically affordable
CONS:
Might not be as visually appealing as other flooring options.
Limited design choices.
7. Vinyl or Linoleum
Both are resilient flooring options made from synthetic materials. They are known for their durability, water resistance, and affordability.
You can use these synthetic floors in a basement or underneath heavier billiards tables. These materials feel soft underfoot, allowing you to play for longer periods.
But although vinyl and linoleum are moderately strong, you should still check them for indentations. And while they're budget-friendly, they might not feel as premium as other options above.
PROS:
Cost-effective
Moisture-resistant
Easy to clean and maintain
Wide range of design options
CONS:
Can be prone to tears or punctures.
Might not feel as premium as natural materials
8. Concrete
Concrete floors, once associated mainly with industrial settings, are now a staple in modern homes. Their raw, polished, or stained finishes can create diverse looks – from industrial chic to modern minimalist.
Concrete floors are highly robust; they can easily withstand the weight of the heaviest pool tables and last for decades.
Concrete flooring is also great for basements because it resists most stains and requires only periodic sealing or polishing.
On the downside, a concrete floor is more expensive and can feel cold and rough on your joints. It's also not the best option for the second floor.
PROS:
Highly durable
Can be stained or painted for a customized look
Low maintenance
CONS:
Uncomfortable to stand on for extended periods
May be too expensive
FAQs
1. What is the best type of flooring for pool tables?
The "best" flooring often depends on individual preferences and priorities. While hardwood is a top choice for many due to its durability, strength, and aesthetic appeal, tile or concrete can also be suitable, especially for strength and moisture resistance.
2. Can I place my pool table directly on a carpet?
Yes, you can place a pool table on a carpet. However, the table's weight may leave indentations or affect the carpet's weave over time. Ensure the table remains level, especially if the carpet is thick.
3. Will a heavy pool table damage my hardwood floors?
While hardwood floors are durable, prolonged exposure to the weight of a pool table may cause indentations. Protective pads or rubber mats under the table legs will help distribute the weight and reduce the risk of damage.
4. How do I protect my floor from chalk dust and ball impacts?
Place rubber mats or a rug under the pool table to protect the flooring from chalk dust and accidental ball drops. These additions also make cleanup easier.
5. Does the type of flooring affect the gameplay on the pool table?
Indirectly, yes. A level and stable floor ensures that the pool table remains level, which is crucial for accurate gameplay. Flooring that shifts or deforms over time can affect the table's balance.
Wrapping up
Remember that the floor underneath your pool table is essential in ensuring your pool table's longevity and optimal gameplay. Before selecting flooring for your pool table, consider functionality, aesthetics, and budget. Also, the best flooring will depend on the pool table you choose.
Learn more about purchasing a pool table in our Pool Table Buyer's Guide.