Pool Table Buying Guide - How to Buy the Best Pool Table
Posted by Home Billiards on 11th Oct 2022
A pool table may be a home for sport at its core, but it can also be a relaxing refuge after a long day at work, a shared pastime for families, an excuse to catch up with a friend and so much more. To ensure you end up with a table you love, it's important to first read our pool table buyers' guide.
Regardless of your budget, preferences, or space constraints, you'll learn how to pick the perfect table for your needs. You'll also walk away knowing how to check the quality of any tables you're considering, buy from only trustworthy providers and more.
So have a seat, bookmark this page and use our pool table buyers guide below to make your next pool table purchase the right one.
How do I choose the right pool table
There are many different kinds of pool tables, each serving different purposes, budgets and preferences.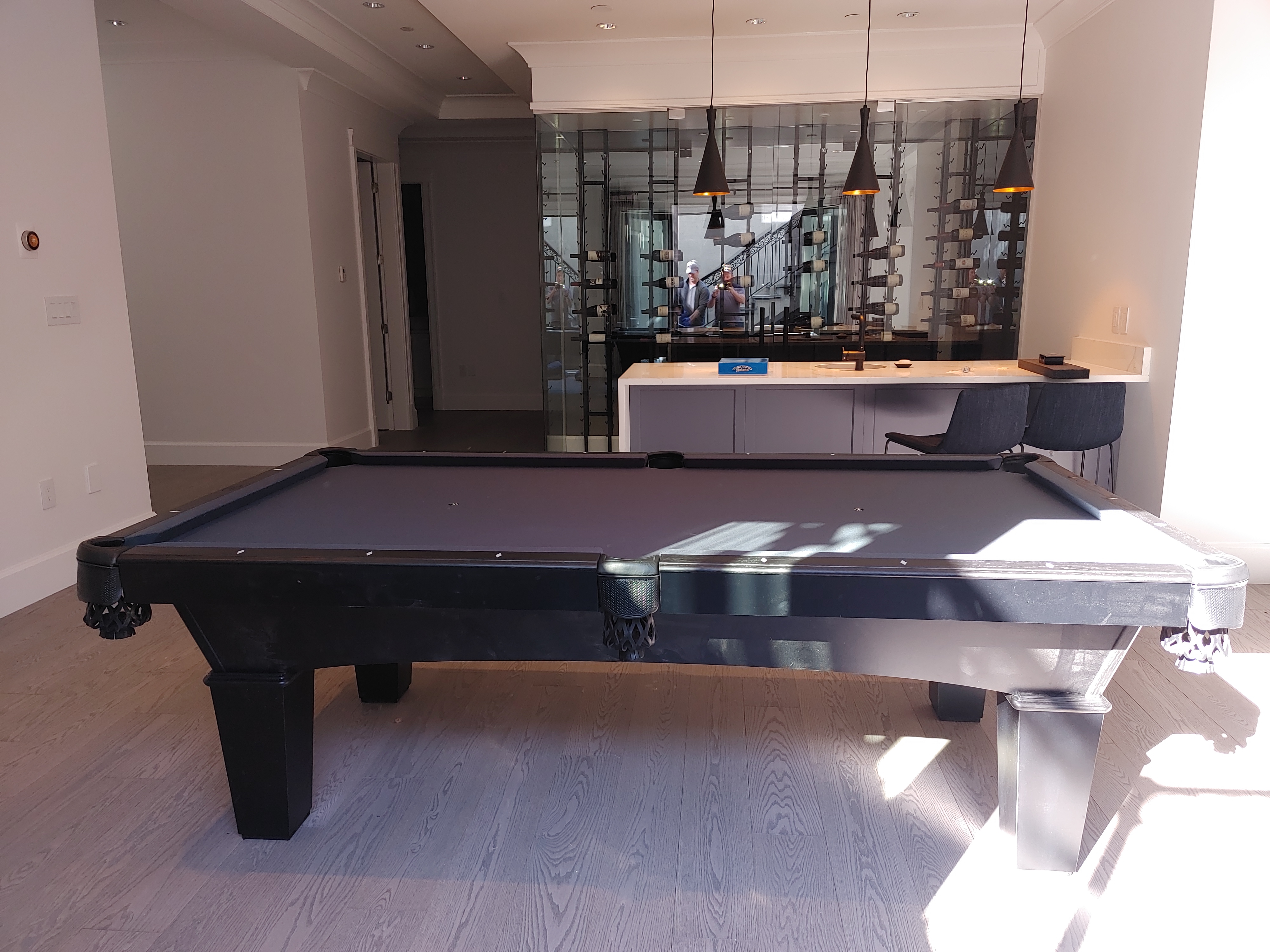 To simplify things, you can think of your options as belonging to three main camps:
Table type: The material that the table itself is made of.
Table size: The size and shape of the table.
Table appearance: How the cloth, bumpers, legs, and other visual elements of the table look.
Let's take a deeper dive into each of these camps below, starting with the construction of your table.
Pool table types
What is a pool table made of? The answer to this question affects everything from the quality of play to cleanability to general longevity.
The main decision you'll have to make here is whether you want a slate pool table vs non-slate pool table.
What is a slate pool table?
Slate is a rock that naturally splits into wide, flat pieces. This means you don't have to worry about machine- or human-made errors that affect performance.
Plus, because it's rock, durability on slate tables is much higher. They last longer, can endure harder, longer play, and are much less likely to need costly repairs or replacements in the future.
Now, with this top-of-the-line quality comes a higher price tag. But, if the initial cost of a slate table doesn't work with your budget, it's worth considering what you'll save in long-term repair and replacement costs. In the end, you may still find a slate table worth exploring.
Slate tables are also larger and heavier than non-slate tables. This may affect your decision if you're working with limited space or planning to move around a lot. To compensate for this, slate tables are typically broken down into multiple pieces for easier transport.
Simply put, slate is your best option if you're looking for the highest-quality table material possible.
What are non-slate tables (synthetic)?
If slate tables don't interest you, there are several synthetic pool table types to choose from.
In order of lowest quality and least expensive to the highest quality and most expensive, these synthetic options include:
Particle Board (MDF)
If you're just looking for a board to play on casually and aren't overly worried about longevity, a particle board table is a great option.
However, consider that particle boards are more affected by environmental factors. Condensation and temperature changes can cause warping over time.
The silver lining with particle boards is that they are lightweight, affordable and come in many sizes. This makes them a great introduction to pool in the home.
Honeycomb
A step up from particle boards, honeycomb tables consist of a honeycomb-like material compressed in layers of plastic.
They won't warp as much as particle boards and tend to be lighter and more economical. With this comes weaker structural integrity and a rougher playing surface.
Slatron
Slatron, or Permaslate as it's also known, consists of a particle board encased in condensed and hardened plastic.
The quality and durability of Slatron approaches that of traditional slate while offering synthetic tables' weight, sizing, and pricing options. This makes it the next best material for pool tables after slate.
Bottom line: MDF vs slate pool tables
When comparing MDF vs slate pool tables, there are some swaying factors.
If you want to take pool seriously, value durability, have a higher budget, don't mind dealing with and moving a heavier table, and have a larger playing space, then a slate table is your best option.
If you're working with a smaller budget, want a table that's easier to move and ship if need be, and want more options regarding sizing, then a synthetic option might be more up your alley.
Pool table sizes
After table type, table size is worth looking at next. If your table doesn't fit in your space, nothing else matters, right?
While sizes range anywhere from six feet to 12 feet, the three main sizes include
9' tables (9' x 4'6"): 9' tables may be the biggest and most expensive of the sizing options, but they also provide the most room for practicing and honing your game. A bigger table at home can give you a competitive advantage over those used to playing on smaller ones. Billiards was also invented on 9' tables, and it's on these tables that professional tournaments are still played to this day.
8' tables (8' x 4'): 8' is your standard professional-size pool table. It's not as difficult to play on as a 9' table, but it's still challenging enough to help you constantly develop your skills.
7' tables (7' x 3'6"): 7' is what you'll typically find at your local bar or pool hall. Plus, their smaller size makes them more suitable for a wider variety of spaces in the home.
To ensure your table suits your space, take time to measure your pool table room size before buying. This helps confirm that you have enough space for the table and the cues you plan on using. We don't want any holes in the wall as you pull back for your break!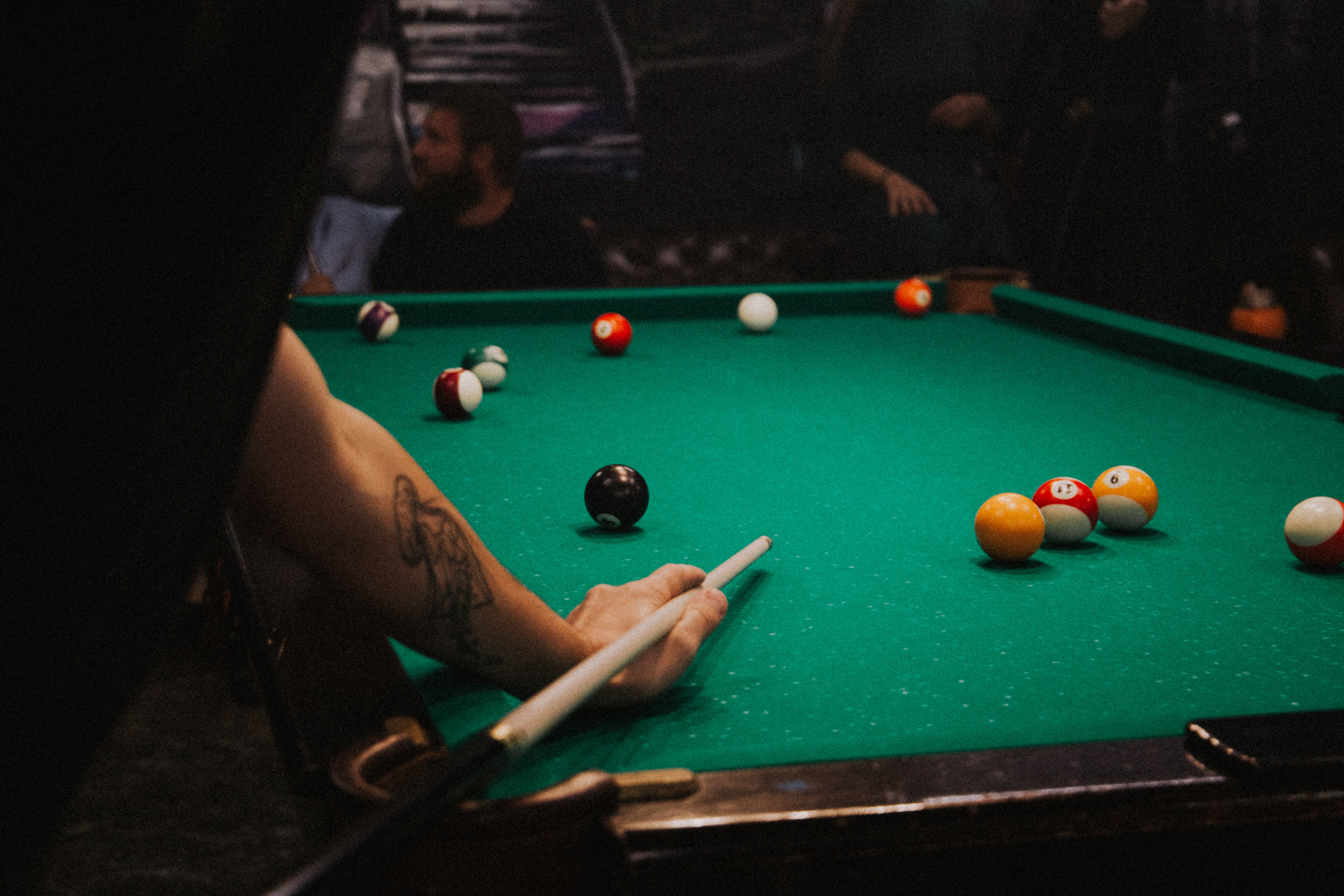 For example, from our pool table size guide, if you're using 52" pool cues, you want to check that you're playing in a room size of 11'11" x 15'2".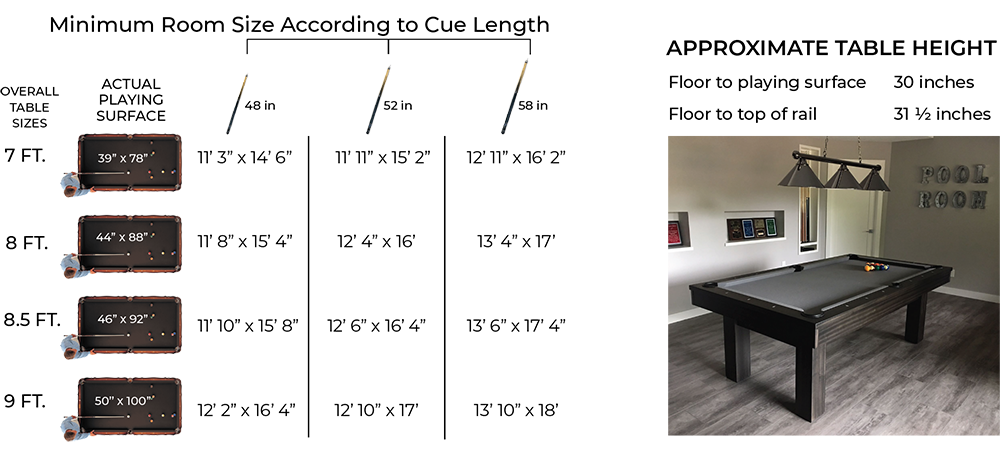 Pro tip: If you go to play on your new table and realize your space isn't big enough for your preferred cues, don't get discouraged! Playing with a slightly shorter pool cue not only solves this problem but can also help make you a more versatile player.
Pool table styles
Once you've figured out the more practical elements of buying a pool table, there's a more fun decision to make: how you want it to look!
Do you want it to look like what you'd see walking into a 1970s, smoke-filled pool hall? Or a modern art piece? Perhaps somewhere in between?
The diversity in pool table styles is greater than it's ever been. To make your search a little easier, here are your three main style categories:
Traditional
Think of the standard pool table you see in movies, in your grandparents' basement, or at your local bar.
This generally means green-felt covering, stained hardwood appearance, and antique-looking legs and patterning.
Contemporary
If you're looking to avoid traditional pool tables in favour of something a little slicker and classy-looking, a contemporary style may be better suited.
We mean darker, polished finishes, felt colours outside the traditional green or red, and more modern patterns or design choices. For reference, imagine what you might see at a professional tournament or at a classy hotel.
Modern
For those looking for the latest design options, non-traditional bells and whistles, and a pool table that also doubles as an art piece for the basement, a modern style is likely more your vibe.
With this style, you can find every combination of table legs, pedestals, pocket designs, digital components, top covers, and other features imaginable.
What to look for to determine table quality
Now that you know the nuts and bolts of your ideal pool table, the next step is to learn how to determine a table's quality.
This way, whether you're walking into a physical store, looking at a used pool table on a curbside, or unboxing a table delivered to your home, you know how to tell a good table from a bad one quickly.
In general, there are five quality assurance boxes you'll want to check:
Age
The older a table is, the more wear and tear it's likely endured. That said, quality pool tables maintained well can last decades. So it's important to consider the other factors below for a realistic sense of a table's condition.
Frame and slate condition
Is there any damage to the frame or slate? Is the frame holding the slate firmly in place? Even if it's okay now, a loose slate could lead to cracks or other damage in the future. These are the things you want to look at when inspecting prospective tables.
Leg condition
Pool tables weigh hundreds of pounds. If there's any damage to their legs (or missing legs), that's a potential accident waiting to happen. Generally speaking, the more legs under a frame, the better.
Cushion condition
For any table you're considering, try shooting a ball into its rail to see how much bounce it gets. If there's little-to-no bounce, that's a no-go. It either means that the table's cushions are dried out and need to be replaced, or they're made of poor-quality synthetic materials.
Ideally, you want to look for tables with cushions made of natural gum, as these perform better and last much longer than synthetic cushions.
Cloth condition
Cloth material and condition are two major areas to consider when considering a pool table. You want materials conducive to the smoothest and most durable playing surface possible.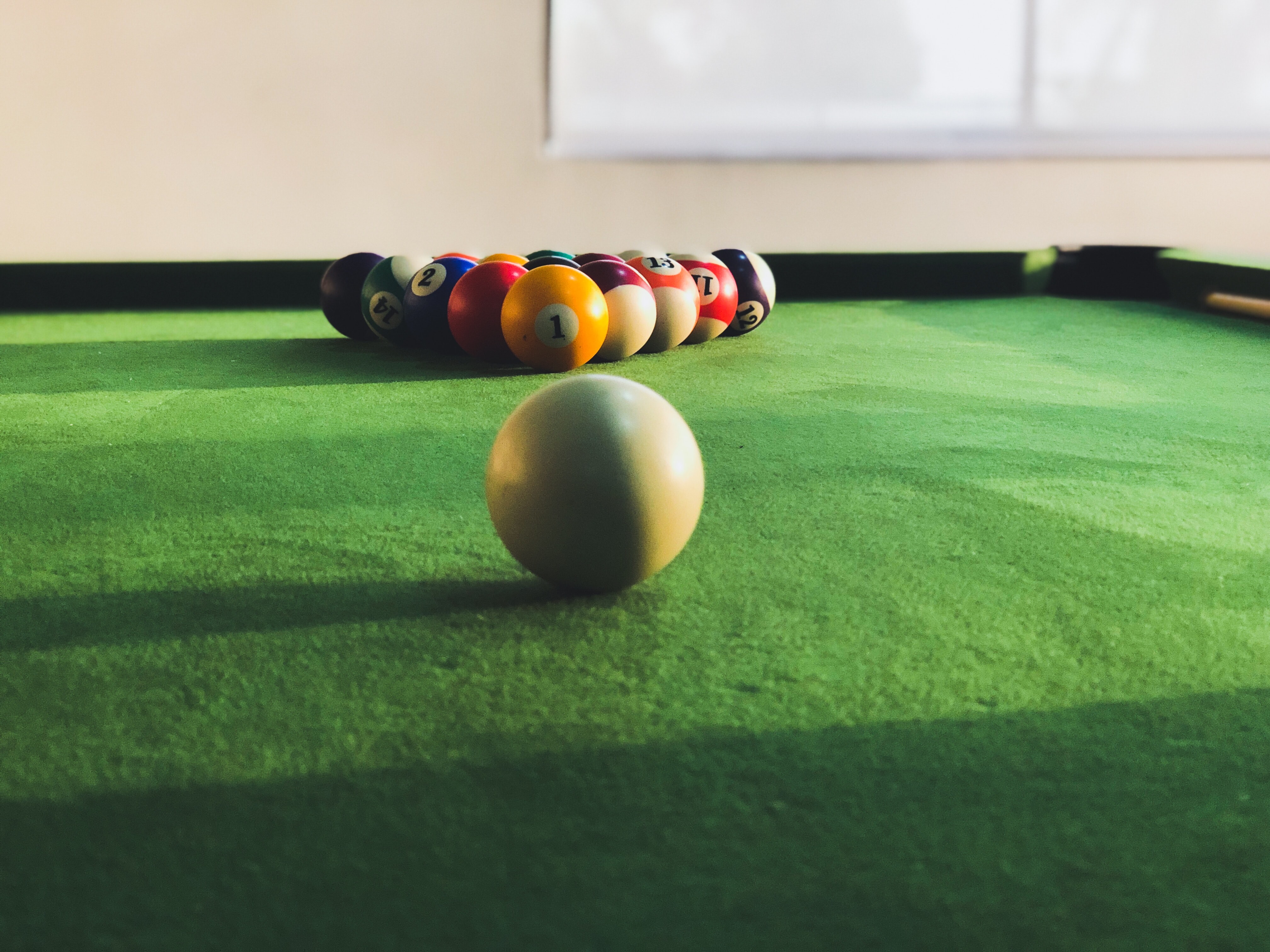 As a general rule, the higher percentage of wool in a pool table cloth, the better (top-of-the-line felts use 90% worsted wool and 10% felt).
Pro tip: If you're considering buying a used table, you also want to ask about any accidents or events that negatively affect playability.
Pool table warranty
Before we move on to where to get your dream pool table and how much you can expect to pay for it, it's worth quickly mentioning pool table warranties.
For an investment like a pool table, you want to make sure you're not completely on the hook if an accident or defect were to cause damage to it. To avoid this, it's always worth asking what warranty options are available for any tables you're considering.
Where to buy pool tables
In your research, you'll likely come across a couple of different options for purchasing your pool table: buying at retail vs online marketplace.
Retailers control the entire selling process, whereas marketplaces allow sellers to sell their products individually (think buying from Home Billiards, a retailer, compared to buying from Wayfair, a marketplace).
Given that marketplaces don't have as much control over the transactions on their sites — because they're being managed by the individuals selling the products themselves — elements like customer service and return policies aren't always the best.
There also doesn't tend to be as much quality assurance, as you have to trust the individual seller that they're selling you what they're advertising.
This is why, especially for larger purchases like pool tables, retailers are generally safer to purchase from. For example, we at Home Billiards control everything end-to-end. Customers can rest assured that what's advertised is what's going to show up on their door. Not only that but free delivery and installation are included!
Customers also know where to reach us in case they have questions, need support, don't know how to install a pool table, or need an issue rectified promptly. Unlike in a marketplace, where it can be unclear how to get the help you need, our team is always available and ready to help.
How much does a pool table cost
The cost varies wildly depending on the factors described above. For a rough idea of what you can expect to pay for a pool table, prices typically range from $2,000 to over $10,000.
Using this pool table buyers guide to make the perfect purchase
Armed with this pool table buyers' guide, you now have everything you need to choose a pool table that perfectly fits your needs confidently.
Once you're ready to make a call or explore your options in more detail, check out our wide selection of pool tables! We'll do everything we can to ensure you end up with a table you love.