Best Wood Pellet Grills For Any Budget You Desire
Posted by Home Billiards on 9th Jul 2023
Wood pellet grills are the most versatile cooking appliances out there. That's a bold statement, but we mean it. Smoke, bake, grill, braise; you name it, pellet grills can do it.
Many pellet grills and brands have come out over the years, but Traeger has stood the test of time. Their pellet grills have been around for decades, since 1985, and become known for their unmatched quality and dependability. While Traeger remains our favourite, other brands like Green Mountain grills, Camp Chef and Pit Boss are certainly worth checking out And for sake of completeness, don't forget charcoal grills and gas grills.
But with so many models under the Traeger name, it can be hard to know which one to choose. In this article, we share four of our favourite Traeger wood pellet grills to help narrow your options.
Before we get to that, first is a quick rundown of how to choose a pellet grill.
What is a wood pellet grill?
Pellet grills cook food with heat and smoke from burning compacted sawdust pellets.
How does a wood pellet grill work?
From meats to vegetables, pellet grills allow you to cook your favourite foods as easily as you would in your oven while providing a unique smoke flavour.
Set your settings (desired temperature, time, etc.) on the side of your pellet grill or even remotely from your phone, and get the exact cook you want every time.
Here's a deeper look at how most pellet smokers work:
You dump your favourite wood pellets into the hopper
These pellets are transferred to the fire pot by an auger
In the fire pot, the pellets are ignited by the HotRod
A fan circulates heat and smoke for even, consistent cooking
While this happens, a drip tray keeps flames off your food and prevents flare-ups. - The drip tray also collects the fat and drippings from the food; a liner makes cleanup easy.
Check out this video for more on how a wood pellet grill works.
How to choose the best wood pellet grill
There are a few big things to consider when purchasing a wood pellet grill. We cover everything in more detail in our Traeger buyer's guide, but here are the main items to consider when reading the reviews below:
Space available for your grill: How much space do you have available for your grill? Do you want to take it with you on camping or RV trips? This will help you decide the size and model of your grill.
Your budget: Pellet grills come in a wide range of prices, starting from $599 up to almost $5,000. Having a budget in mind quickly narrows down your options.
Type of cooking you plan to do: While pellet grills are very versatile, some models will do certain kinds of cooks better (think grilling steak versus smoking a whole chicken).
Size of gatherings: How many people do you typically cook for? Any pellet grill below can handle small meals, but if you want to feed the whole neighbourhood, you'll want to choose a larger grill like the Timberline XL.
With all of this in mind, let's jump into our best pellet smokers from Traeger.
About our Traeger Grills review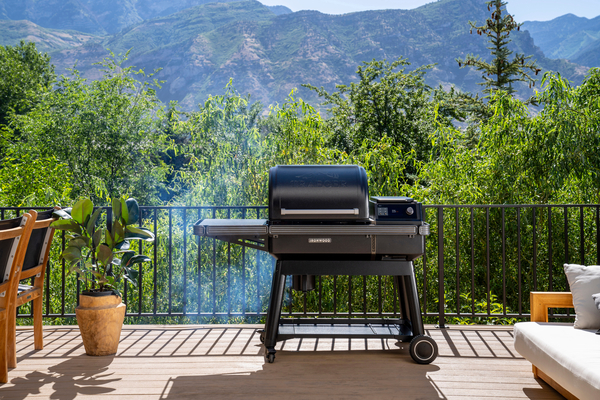 For each pellet grill, we'll give an overview, list its key features, and explain what makes it stand out.
The grills below were chosen to provide the widest variety of pellet grills. We want to show you how versatile pellet grills are and allow you to compare different models based on how you like to cook so you can make the best purchase for you.
With that in mind, these were the key factors for inclusion in the list below:
Price: Both high and budget pellet grills
Portability: Easy to transport and stay-at-home models
Size: Small grills and large grills
Depth of features: New tech and minimalistic designs
The knowledge below comes from our first-hand expertise and customer reviews from Reddit, Youtube, and retail sites (like Traeger.com) to give you a complete and unbiased look at these grills.
And, one last note, these reviews are provided for informational purposes and are not intended to be professional advice. Please do your research to supplement this article. We'd be happy to answer any questions you have.
4 Best Traeger Grills for any budget
There are many pellet grills to choose from, but the ones below are the highest rated and cover the most situations. They're also listed by price in ascending order, so you'll find the most affordable models at the top.
Portable pellet grills
Let's start with Traeger's portable grill models. These grills can be taken with you anywhere. They are the ideal companion for road trips, a weekend at the lake, or a pregame tailgate party.
Traeger Tailgater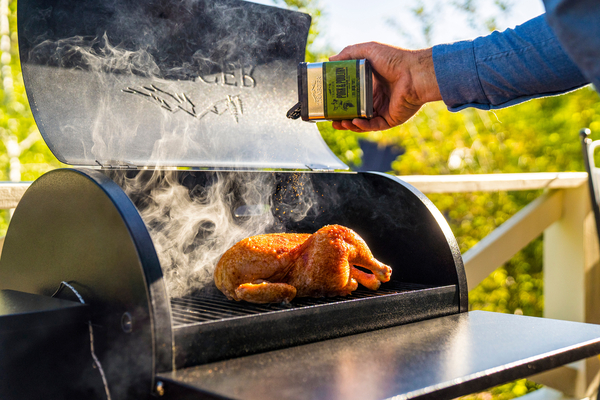 Are you a passionate outdoor enthusiast, a tailgating fan, or an avid camper looking for a grill to match your adventurous lifestyle? Look no further than perhaps the best portable pellet grill, the Traeger Tailgater.
One of Traeger's most affordable grills, the Tailgater, is priced at $699. It's designed to grill on the go and help you enjoy mouthwatering wood-fired flavours wherever your adventures take you.
Traeger Tailgater's key features
Portability: The Traeger Tailgater grill's compact size and folding legs are made for ultimate portability.
Versatile Cooking: Like most pellet grills, this grill excels in versatility, offering various cooking options to suit your culinary preferences. From succulent steaks to tender ribs and perfectly smoked salmon, there are no limits to what you can cook.
Digital Arc Controller: Equipped with Traeger's advanced Digital Arc Controller, this grill ensures precise temperature control. The digital display allows you to set and monitor your cooking temperature easily.
Efficient Pellet Technology: Powered by electricity and cooking with naturally-flavoured wood pellets, the grill is about as sustainable, flavourful, and smokey as it gets.
What sets the Tailgater apart
The Tailgater offers portability without compromising performance. Fold up the legs and easily travel with it, but also easily unfold it into a fully-functional pellet grill.
What others have to say about the Traeger Tailgater
Customers have praised the Traeger Tailgater grill for its ease of use, portability, durability, and exceptional flavour it brings to their meals.
While most customers have had positive experiences, a few have reported issues such as inconsistent temperatures and delivery damages. However, these instances are outliers compared to the overall positive feedback received.
Traeger Ranger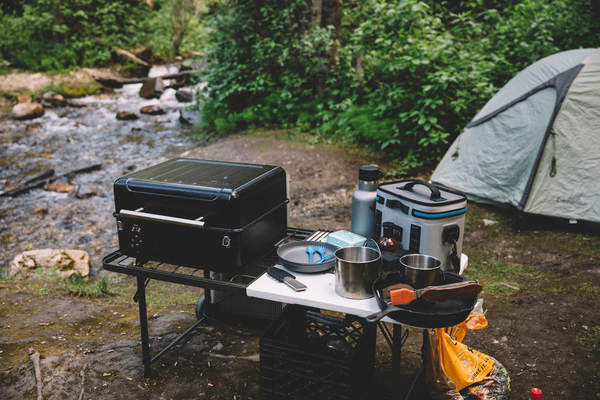 Like the Tailgater, the Traeger Ranger is a contender for best portable pellet grill. But it doesn't have the Ranger's foldable legs, making it even easier to pack and take with you on the go.
Traeger Ranger key features
Priced at $599, this compact powerhouse is designed for those who want the pellet grill taste anywhere, any time.
Here are the core features that set the Traeger Ranger grill apart from other pellet grills:
Portability: Weighing only 60 pounds (27 kg), the Traeger Ranger Grill is engineered for ultimate mobility.
Versatility: Don't let its size fool you! The Traeger Ranger Grill offers 184 square inches of cooking surface, providing ample space to grill, smoke, bake, roast, braise, and BBQ your favourite dishes.
Digital Precision Control: The Ranger grill features Traeger's innovative Digital Arc controller, allowing you to easily set and maintain your desired temperature.
Superior Taste: Like all Traeger grills, the Ranger Grill harnesses the power of wood pellets to infuse your food with rich, smoky flavours.
What sets the Ranger apart
Portability, portability, portability. You won't find any other Traeger grill as portable, versatile, and powerful as the Ranger.
What others are saying about the Traeger Ranger
The Traeger Ranger grill is generally well-received for its performance, compact size, and convenience.
Despite its size, users have found it spacious enough to smoke large cuts of meat, such as a 12 lb beef brisket, while also being suitable for various other cooking tasks like grilling steaks, burgers, and even vegetables.
A few users have experienced temperature control issues at low temperatures, such as when smoking food. There have also been reports of small design flaws, such as the absence of handles on the sides of the grill.
Stationary pellet grills
If you plan to do most of your cooking in your backyard—or anywhere more stationary—then one of the stationary pellet grills below is bound to suit your fancy.
New 2023 Traeger Ironwood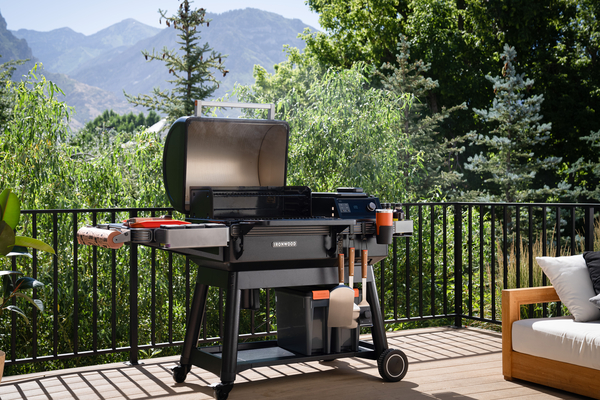 Traeger's newest model, the 2023 Traeger Ironwood, offers the latest technology and customization options for a one-of-a-kind grilling experience.
2023 Traeger Ironwood key features
WiFIRE® Technology: Traeger's state-of-the-art WiFIRE technology allows you to seamlessly connect to and control your grill from the Traeger app on your smartphone. From temperature adjustments to setting timers and monitoring meat probes, you have complete command over your grill, even when you're away.
Super Smoke Mode: This feature uses cutting-edge technology to maintain a low and slow temperature range while producing a continuous supply of rich, flavourful smoke.
EZ-Clean™ Grease & Ash Keg: This feature simplifies cleaning and adds convenience. With a simple lever pull or twist–There is a bucket "Keg" on the bottom that you push a button to release, and inside is a disposable bucket liner that accumulates the grease and ash–the keg effortlessly releases accumulated grease and ash, eliminating the need for tedious scraping and scrubbing.
Double-Side Wall Insulation: Double-side wall insulation significantly improves temperature consistency and fuel efficiency. This insulation helps maintain even heat distribution across the entire cooking surface, eliminating hot spots and ensuring your food is cooked to perfection. Included in this, the downdraft system helps the smoke roll through evenly and helps with creating an even cooking experience. The double wall insulation helps maintain the temperature in a range of climates
Ample Cooking Area: Whether hosting a small gathering or a large backyard cookout, 2023 Ironwood offers a generous 924 square inches of cooking space and covers you.
Superior Build Quality: From the stainless steel exterior to the porcelain-coated grill grates, every component is designed to withstand the rigours of regular use while maintaining its sleek appearance.
What sets the 2023 Ironwood apart
The Ironwood's stand-alone durability and features set it apart from other models, including its advanced insulation technology, WiFIRE® technology, Super Smoke Mode, and EZ-Clean™ Grease & Ash Keg.
What others are saying about the 2023 Traeger Ironwood
Many users express satisfaction with the grill's performance, including fast heating, temperature maintenance, and convenient features like app control and super smoke. They also appreciate the easy assembly.
Some issues customers bring up have to do with temperature control, high-temp shutdowns, and pellet sensor errors. These issues are accentuated by the grill's higher price tag.
Traeger Timberline XL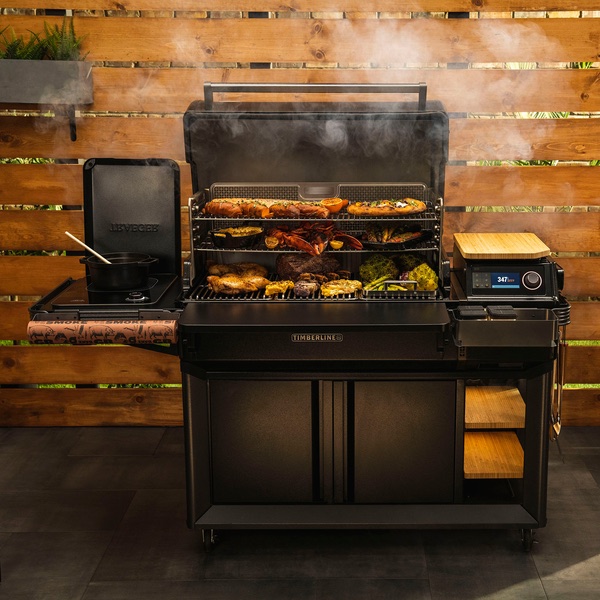 At $4,899, the Timberline XL wood pellet grill is the best of the best, the grand master of wood pellet grills. With three tiers of cooking space and an intuitive touchscreen controller, the Timberline XL covers all meals and occasions.
That said, there is also the regular Timberline, which offers all the same features in a more compact frame. If BIG cookouts are on the agenda, stick with the XL, but the regular Timberline is a great alternative if you want space-efficient, top-of-the-line grilling.
Key features of the Timberline XL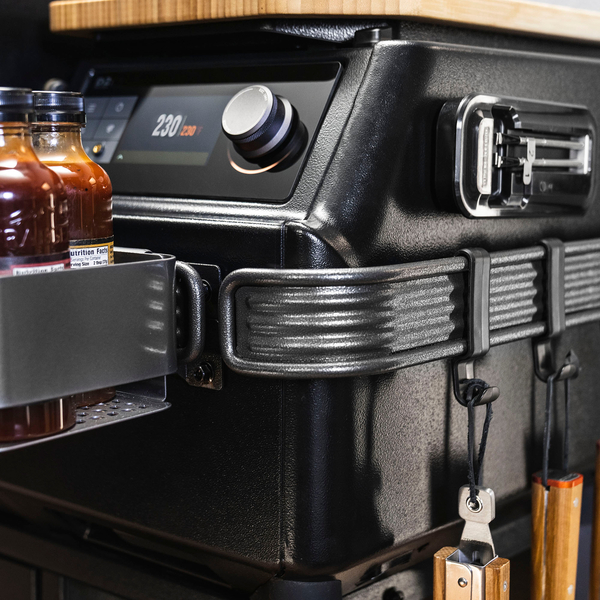 Large Cooking Area: The Timberline XL comes in hot with a grilling space of 1300 square inches, which will cover almost any meal or occasion you can think of.
Innovative WiFIRE® Technology: Remotely adjust temperature, set timers, and even access recipes from your phone using WiFIRE® technology.
Superior Temperature Control: With the ability to maintain temperatures within +/- 5 degrees Fahrenheit, achieve the perfect level of doneness every time, whether you're grilling, smoking, roasting, or baking.
Double-Insulated Stainless Steel Construction: Double-insulated, stainless steel design enhances cooking efficiency and minimizes fuel consumption, allowing you to enjoy extended cooking sessions without worrying about running out of pellets.
Versatile Grilling Options: Featuring Traeger's signature six-in-one versatility, you can grill, smoke, bake, roast, braise, and BBQ to your heart's content.
PAL Rail: Timberline XL PAL (pop and lock) accessories rail makes adding accessories and customizing your grill easy.
Builtin or standalone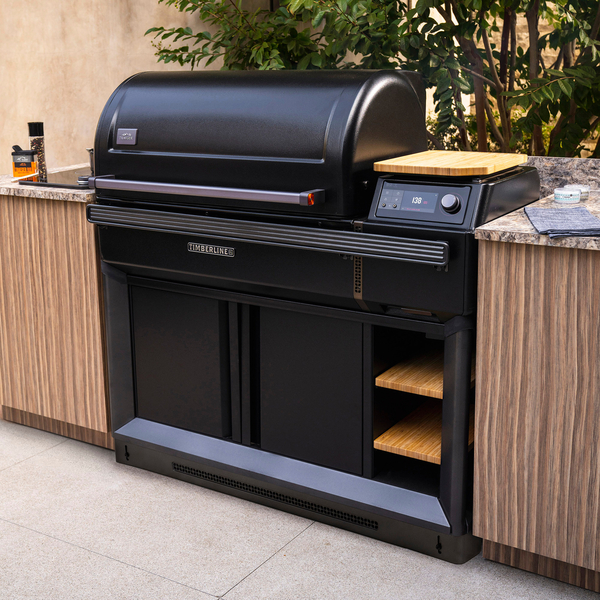 Want a seamless look to your backyard kitchen? Or do you prefer the ability to move your grill around? The Timberline XL accommodates all kinds of backyard entertainment ideas with options for standalone and built-in editions.
What makes the Timberline XL different
If you're a grilling enthusiast—or are on your way to becoming one—the Timberline XL wood pellet grill is as good as it gets.
You get the pinnacle of Traeger grilling technology, cooking space, construction, and customization options, making it the perfect machine to cook up your wildest recipes.
What are others saying about the Timberline XL
Timberline XL's reviews cement its reputation as the best pellet smoker on the market. Reviewers praise its advanced features, easy cleaning, consistent temperatures, and improved ash and grease collection.
They also appreciate the high-quality construction, easy installation of accessories, and well-fitting cover.
Some reviewers encountered temperature swings and found the built-in meat probes unreliable. One reviewer mentioned that the pellet grill is suitable for smoking but not so much for searing, lamenting the grill's inability to quickly reach high searing temperatures.
Traeger's app
One of the most consistent challenges people talk about in their reviews is Traeger's app.
Unfortunately, there's no one solution for this. Everything from your specific phone to your WiFi connection could be the culprit for less-than-perfect performance.
With this in mind, we suggest you download the app and give it a go while at your local Traeger dealer. This way, if there's a problem, a sales associate can help you right away. Take note, if you live in Vancouver and purchase a Timberline or Ironwood, Home Billiards will install your grill professionally with a white glove service. With this free add-on, our team will make sure the app works at your home.
Maintaining your grill
Pellet grills are investments. While Traeger grills are built to last, repairs and required tune-ups still happen. When they do, you want to make sure that whoever is repairing yours has the necessary expertise.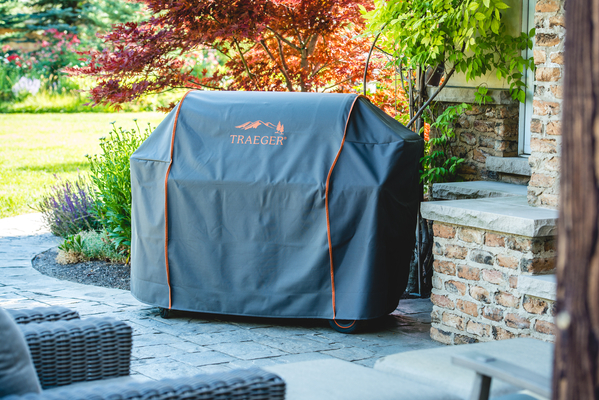 This is why we recommend buying from stores officially certified for Traeger repairs and tune-ups, like Home Billiards.
Also, even though Traeger's pellet smokers come built with longevity features like automatic grease disposal, maintenance on your part is still very important.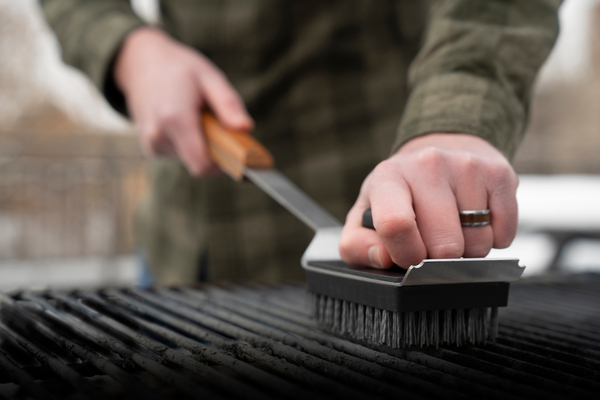 For help getting the most out of your pellet grill, read our guide on cleaning and maintaining your grill.
Traeger accessories
Out of the box, Traeger grills are ready to grill to perfection. But you can elevate your cooking experience even more with a few Traeger grill accessories.
Several of the grills in the Traeger lineup come with the innovative P.A.L. (Pop And Lock) system, which you can use to easily add a shelf, roll rack, or storage bin.
Beyond this, you can add all kinds of accessories to your grill, from new grill grates to accessory hooks.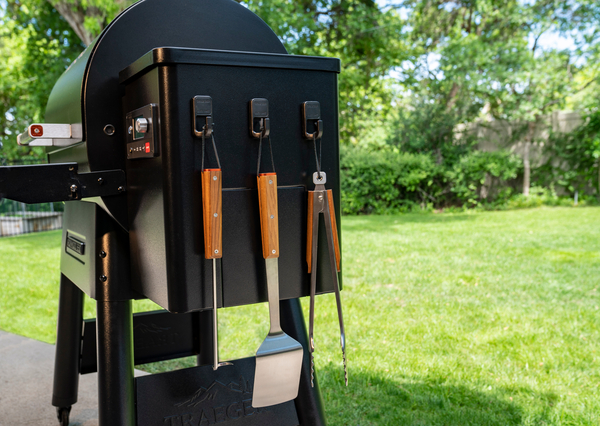 Let's get cooking
Well, there you have it. Four of our favourite Traeger grills for 2023. Each of these grills could serve a specific purpose in your cooking arsenal, but if you're still unsure which model to choose, check out our Traeger buyer's guide for more helpful tips.