Pool Table Sizes: What Are The Different Sizes
Posted by Home Billiards on 10th Nov 2022
When it comes to buying a pool table, size is everything.
But with all the different sizes and shapes available, how do you know which one is right for you? Not to worry – we've got you covered.
In this post, we'll break down the different sizes and shapes. After reading this guide and getting a sense of the different table sizes, be sure to read our pool table room size guide to make sure the table you want will fit the room you have.
Pool Table Sizes
It can be challenging to know what size table to buy. After all, you want something that fits your rec room perfectly. Not only do you need enough room to play, but you also want to consider other things like a bar or foosball table. And, whether you know the difference between snooker, pool or billiards, cue sport table sizes also depend on the type of game you want to play.
Below is a quick guide to help you find the right-sized table for your needs.
What Is the Standard Size for a Pool Table
A standard size pool table is 8' by 4' in dimension. This is a great size table for most homes. It offer enough playing surface to be challenging for beginner and intermediate players. It also fits the average rec room or finished basement.
What Is a Regulation Size Pool Table
A regulation table is determined by the ratio of the length and width of the table. Regulation size pool tables must have a 2:1 ratio. This means that the length is exactly twice as long as the width. For a regulation sized 8-foot pool table, the dimension of the table is 8' by 4'.
All of the tables on our website are regulation size. You can find non-regulation tables but they are rarer to source.
Billiards & Pool Table Sizes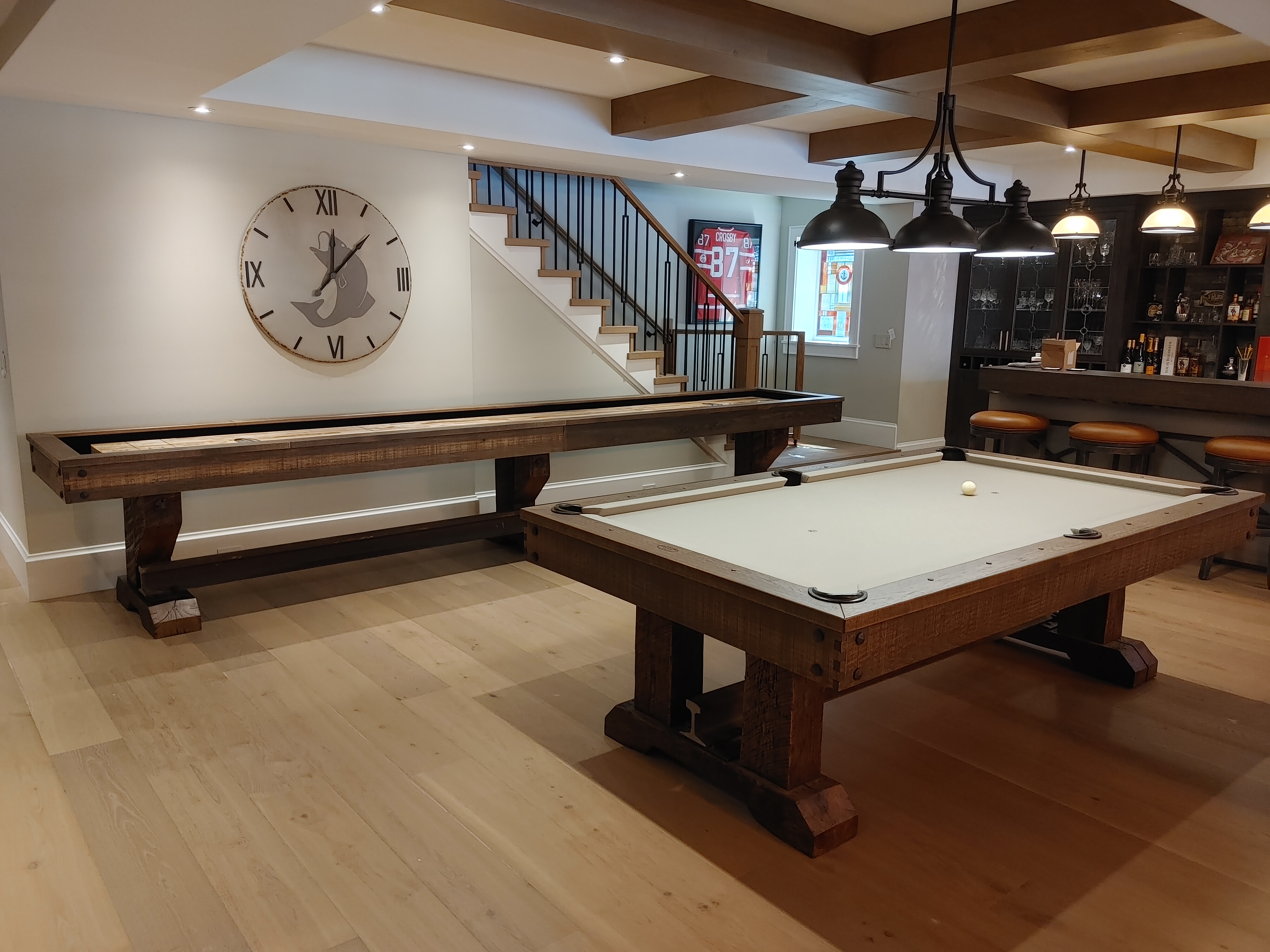 The most commonly sold size billiard table is the 8'x4' configuration. This size is good for beginners and advanced, as it provides plenty of room to play and practice. However, if you're a more experienced player looking for a larger playing surface, then consider a 9-foot pool table.
7' Pool Table (Bar Size Table)
The first table size is the 7-foot table, which is 7' long, 3.5' wide, and 2.5' high (213.36 cm long,106.68 cm wide, 76.2 cm high)
This size gives enough room for one player to comfortably play without any clearance or visibility issues. As the name suggests, this sized table is often found in bars. Because of its short length it's also the easiest to to play on.
8' Pool Table (Standard Size Table)
The most common Billiards table size is 8' by 4' (243.84 cm by 121.92 cm). This is a good size for home use, but it can also be used in bars or restaurants.
9' Pool Table (Tournament Size Table)
The 9' pool table is the king of billiards tables. The dimensions are 9' long by 4.5' long (274.32 cm long by 137.16 cm wide) and are perfect for a larger game room. This size is often used in major tournaments, but it can also be used in larger spaces. Be sure to check that you have enough room for your pool cue and shot stroke.
Snooker Table Sizes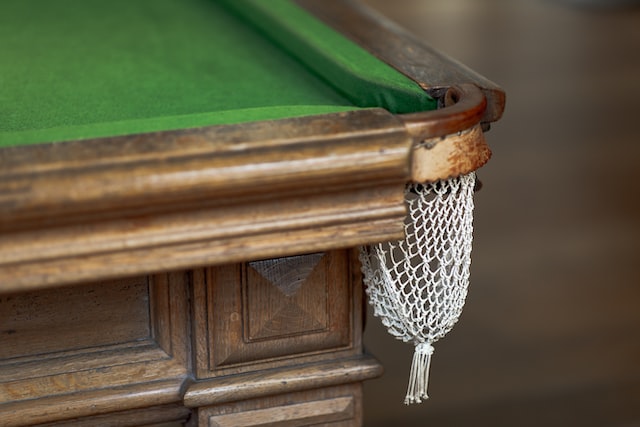 Snooker is played with 15 red balls and six other balls coloured yellow, green, brown, blue, pink, and black. The game is organized into frames, which players win one by one by pocketing more red and coloured balls than their opponent.
Snooker tables are larger than most billiards tables and can seem massive to the casual pool player. These tables are also slightly larger than the 2:1 ratio we saw with billiards tables. Due to their size, snooker tables are ofter found at snooker clubs and professional tournaments.
9' Snooker Tables
The 9' snooker table comes in a size of 9' by 4' 7.5" (274.32 cm by 144.78 cm) . This is just slightly larger than the longest billiards table. It's a good sized table to get your feet wet playing snooker.
10' Snooker Tables
The 10' snooker table is the middle of the pack size that comes in at a size of 10' x 5' 1.5" (304.8 cm by 156.972 cm).
12' Snooker Tables
The 12' snooker table is the largest of the bunch and is a monster to play on. It is a championship sized table for the best players in the game. Due to its large size, you won't find it in many homes but at the top snooker clubs and tournaments around the world..
How to Choose the Right-Sized Pool Table to fit Your Room?
Here's the deal: not all pool tables are created equal. And, more importantly, not every room size is the same. So before you go out to buy a new pool table, you need to take some measurements and do some planning.
First of all, decide what game you are most likely to play. The most popular games are 8-ball and 9-ball pool, which is played on a billiard sized table. Next, consider how much room size do you have to work with? Pool tables come in various sizes, from 7 feet to 12 feet long. And, depending on the room size, you may want to go for a bigger or smaller table.
So, before heading to your nearest vendor, take some time to measure your room size and decide on the right size.
Conclusion
No matter what your game, it's important to have the right-sized table to fit your room. Determine how much space you have. Too small, and you'll feel cramped; too big, and you'll be wasting space in your pool room.
Whether you're a beginner or a pro, consider these tips when you go out to buy your next pool table. Reach out to us today for more info or get a pool table that suits your room size needs.